Riveter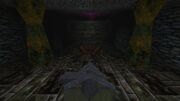 The riveter is in most cases the most powerful weapon of them all. It acts like an extremely powerful rocket launcher, firing explosive projectiles that deal a huge amount of damage.
The riveter boasts a high rate of fire, making it useful for swiftly taking down groups of tough enemies or bosses.
The rivets can be used to rocket jump around, making it useful for getting around maps, getting into crafty locations or for finding secrets. It can also be used for reaching out of bounds locations whilst speedrunning.
It is only found through secrets in Episode 1 The Foothills.
It holds 25 rivets.
The riveter deals a maximum of 500 damage on a direct hit.