Hunting Rifle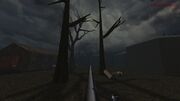 The hunting rifle is a high-damage precision rifle with a powerful zoom (despite the lack of a scope entirely).
It packs a low ammo pool, but it's a devastatingly strong weapon with perfect accuracy.
According to QA- the hunting rifle actually fires two hitscan projectiles, both combined kill a target- or if the target dies from the one projectile- the second will go through, often killing the other enemy behind.
The hunting rifle holds 15 bullets.
Each shot deals 400 damage.