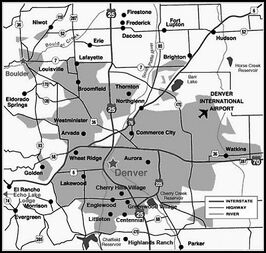 Denver is the capital of Colorado and the largest city in the region. The population of the Metro area is roughly 1.7 million, of which most of the middle-class reside in the suburbs leaving much of the the city itself to businesses and the lower income groups. In 2005-2009 gang violence especially drug related and including drive-by shootings and arson raged throughout Denver's poorer neighborhoods. When the Garou elders discovered a direct link to the gangs and vampires they attempted to purge the area of them. There are rumors among the Bone Gnawers and the Ratkin, however, that the vampires have returned and with new allies of their own.

The downtown core stretches west from the State Capitol to Cherry Creek and north to Coors Field. East of the Capitol lie interesting neighborhoods and a number of large city parks. The downtown area is busy, especially around 16th St pedestrian mall. This street is off-limits to vehicular traffic, except a free bus that travels the entire length of the street, stopping at every corner.

The city has one of the largest park systems in the nation. Notably Denver City Park, in the northeast section of the city and quite a way from downtown contains the Denver Zoo and the Denver Museum of Nature and Science. The City Park is also home to The Swarm, an underground "caern" of sorts controlled by the ratkin. Denver Botanic Gardens is one of the top five botanic gardens in America, with more than 32,000 plants, representing over 2,000 species, including seven that are classified as endangered. The Gardens, while hosting no actual supernatural community, are used by many different supernatural factions as a neutral ground for clandestine meetings between information brokers. The word Elysium is used there though the non-Kindred don't appreciate the political context.

On the northern edge of the city is a section of Denver the locals call "LoDo," or lower downtown, where refurbished Victorian and turn-of-the-century buildings and warehouses are home to an eclectic array of restaurants, art galleries, offices, and shops. A number of eccentric and odd characters live there. However, starting in January 2011, LoDo will also suffer something of an epidemic of hauntings from ghosts. Not coincidentally, the Orphic Circle and Orpheus Group both have headquarters there.
Denver Links
Edit
Denver Center for the Performing Arts
Rocky Mountain Arsenal National Refuge
Two Ponds National Wildlife Refuge
WoD-based Setting
Edit